If you own a truck which possess a minimum gross weight of 55000 lbs or above and if the vehicle is used on the public highway for its desired purpose is known as a Heavy vehicle. Thus, the Form 2290 Heavy Highway Vehicle used Taxes needs to be filed and paid to the Internal Revenue Service.
Why Should You Register With Us?
For new and first time users, Registration happens to be the First option to begin with your E-Filing process.
It hardly consumes a minute before you create a user account on our website by entering your basic details such as your name, phone number& e-mail address.
Post creating an account on TruckDues, you'd be able to enjoy the following benefits:
Single registration for multiple tax return filing.
You may add any number of businesses to your account and access them simultaneously using the primary login.
Update or correct your business information.
User friendly web application allows you to steer clear the entire e-filing process.
Timely updates about Upcoming Tax Deadlines & Due dates.
Receive the IRS digital watermarked copy of schedule 1 in your registered e-mail address.
Access through your history of filings anytime you need.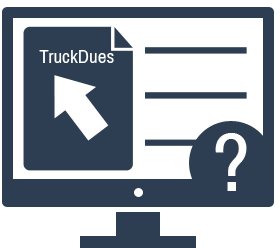 Transparency, clean and unique application is here to deliver it right. Simply click here, give us your login details and start preparing your Form 2290 with ease and comfort.
Done Registering? Come on then,
Welcome to the Truckdues Family!
One-Time Registration

That's right. You no longer have to create a new account every single time you approach our website to E-File your HVUT Form 2290 tax return. Your primarily login would serve you as a one-time credential to be able to login and to your tax returns whenever necessary.
Update/correct your business information
You may update or correct your saved business information in our records, right when you needed. Post updating your information, it will reflect upon your future filings. However be informed that no information can be altered over an accepted Form 2290.
Round the clock Service

As you work 24/7 tirelessly over the road to serve our nation's needs on time, so do we stay committed towards serving an ever hard working trucker with his HVUT Annual Tax Form 2290. Feel free to contact us anytime during the year. We anticipate your arrival!
Step by Step instructions to E-File your HVUT Form 2290!
Brace yourself as just leaped into the modern revolution in Filing your HVUT Form 2290. Now, be sure to have the following information available before start filing your 2290.
VIN – Vehicle Identification Number (Can be found on the Truck Tile Paperwork)
Combined Taxable Gross weight of your vehicle
Unit Number # - may be hard for you to keep note on 17 digits VIN.
Once you are set, you need to provide information about the Tax Year and mention the first month the vehicle was put in use.
The next step is that you need to provide information about the vehicle you own.
Reporting Taxable vehicles,
Reporting Suspended / Exempt vehicles,
Claiming refunds for a Sold, Transferred, Destroyed or Stolen vehicle,
Prior year claim on a low mileage vehicle or suspended vehicle,
Then follow the below steps to be E-File your 2290 tax return with no hassle
From the Dashboard section, Click Start My New Return.
Then over the next page, select your Business name from the drop down menu and select Form 2290 Tax.
Then Select the appropriate Tax year & first used month of your vehicle accordingly.
Then select the type of your vehicle whether it's Taxable Vehicles (Over 5000 miles) or Suspended/Exempt (Less than 5000/7500 miles for Agricultural vehicles).
Then enter your vehicle information along with its taxable gross weight and our systems would automatically compute the tax due amount of your reported vehicle.
Now over the IRS filing option section, Select "Yes" for e-filing and choose one of the IRS tax payment options from the list below which you may find more convenient to use.

Electronic Funds Withdrawal [Direct Debit]
Check or Money Order (Mailing the Payment)
Once you're done with the information, the calculation takes place automatically. You don't have to put on your calculation cap and manually calculate the tax rate based on the standardized heavy vehicle weight and miles drove on a highway during the taxation year i.e. 55,000 pounds and 5,000 miles (7,500 miles for agricultural vehicle) respectively. Our application would take care of it and what are we here for? Well, to serve the best.
The third party designee is the authorized person for IRS to discuss the tax returns in detail. Ensure a trusted person is assigned as the Third Party Designee.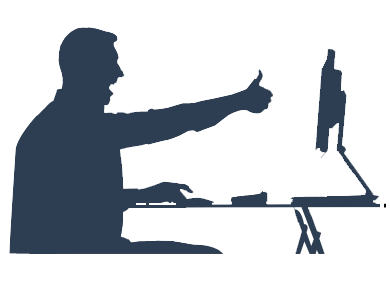 Service Fee Payment
Post following the above step by step instructions to e-file, you have now reached our Service Payment section. Be informed that the credit card information entered on this section is only utilized towards processing the service fee payment to www.truckdues.com to e-file your HVUT Form 2290 to the IRS. E-Filing begins here as low as $7.99!
Return Submission to the Internal Revenue Service
Once you're done processing the service fee payment using your Credit/Debit card, you will now be able to electronically submit your tax return to the Internal Revenue Service by entering a 5 digit PIN which you need to create one once in for all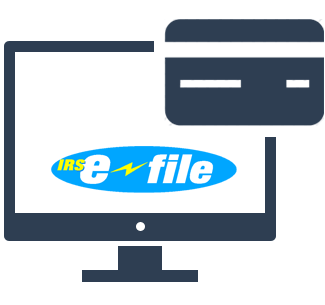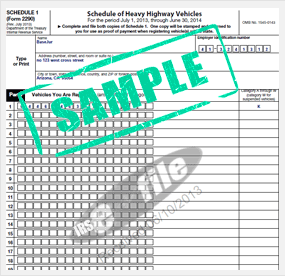 Good Job! You're just a step away in receiving the IRS digital watermarked copy of Schedule 1 for your prepared tax return.
Once you submit your application to the IRS, it takes a matter of few minutes to issue the digital watermark with the date which would nicely serve you as the legal proof of filing during your vehicle registration. This copy will be e-mailed to you hence making it convenient for you to be able to access the stamped schedule 1 anywhere anytime!
Economic E-Filing is for Every Trucker of Any Kind!
We spread the awareness on the benefits of e-filing amongst our ever hard working trucking community as it enables you to E-File your tax returns for 3 years in total inclusive of the current year and prior 2 years from the current period.
However, In the first place, The IRS mandates the usage of an Employer Identification Number during 2290 e-filing process. In case you do not have one, you may Apply one Online or you may contact the IRS at (800) 829-4933 to have this obtained over the phone.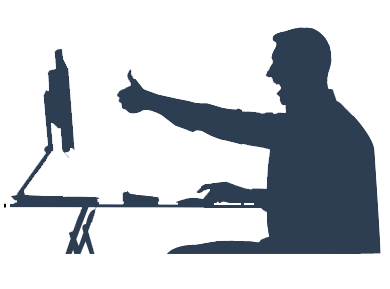 The Federal government also insists the HVUT Form 2290 tax payers to electronically report their 2290's upon possessing a fleet comprising over 25 vehicles or more in total to enable a faster processing of their tax returns.