Truck driver have a job like no other job or career. But however trucking is the most common and popular profession in as many as 26 states in USA. Owner operator own their truck outright and driver hundreds of miles every day. They breathe and live in trucking industry and in many circumstances they have to leave their family and we understand their difficulties and treat them with the most cost effective and economic E-filing method in the current market to lay off the truckers burden. Our price starts at $7.99 for the single vehicle filers and offer free filing for VIN Corrections, in case of typos.
TruckDues helps the truckers to save big on their spending's and lightens the burden on their pockets. This Self-Services website can also enable them to take care of their tax stuffs themselves, does not required to have complete knowledge of 2290, just answer simple questions to prepare 2290 tax returns on their own.
2290 e-File is economic and inexpensive, the best available option than engaging a paid preparer as it would cost them is $$$. Our support desk is available to walk you through the process one by one and be with you till you complete it. We could see the excitement once they are done with this preparation on their own, when they're returning for their next return they do it by themselves. Build's confidence and saves them big on preparation fee etc. By filing electronically, the IRS stamped (watermarked) schedule-1 receipt is also received in minutes which helps them to register/renew their plates in short time frame. No more driving downtown to a local IRS office, standing in line and spending a day to complete 2290s. At the comfort of filing from home/on-road saves them time.
Talk to us today and we also wish to compensate to an extent by giving you some more discounts on special needs. We're available at 347 – 515 – 2290 or write to us at support@truckdues.com. Happy that we were able to help 1000s of owner operators with their 2290 filings and thanks for choosing us as their preferred partner. You could also help us by referring TruckDues, the most economic website to your friends, truckers and community who would be needing to file these 2290 Heavy Vehicle Use taxes.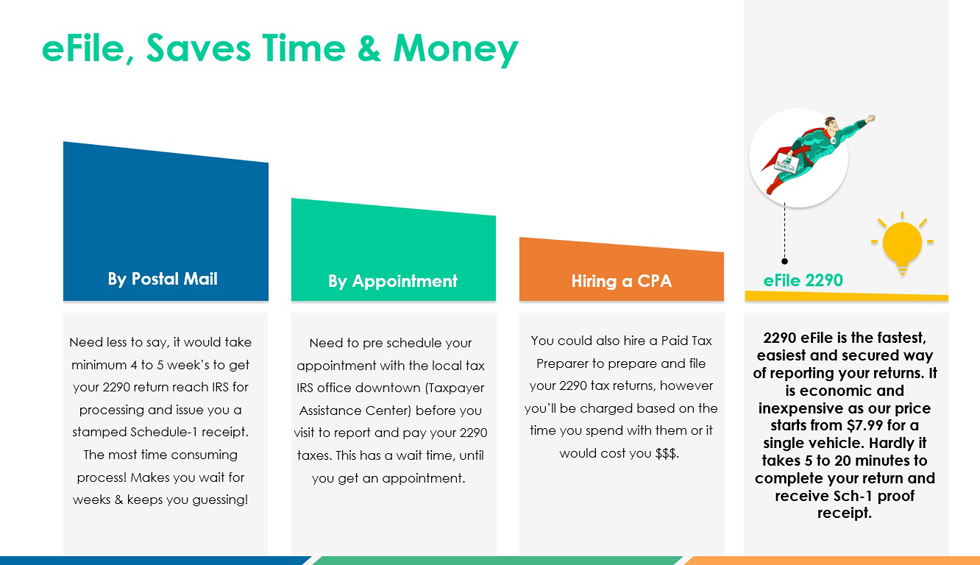 Federal Vehicle Use Tax Form 2290 is now due for the Tax period 2021 – 2022 and started accepting 2290 returns for the tax period, efile it to fasten the process and receive back the IRS stamped Schedule-1 receipt in just minutes once IRS accepts your 2290.