Form 2290, the heavy highway vehicle use tax is a fee assessed annually on vehicles that operate on public highways. The weight includes the motor vehicle, any trailers and if you own a heavy motor vehicle with a gross weight of 55,000 pounds or more, you are required to file the 2290 heavy highway vehicle use taxes with the IRS. The tax period begins on July 1 and ends on June 30, each year.
How to report 2290 taxes with IRS?
If you own and operate a heavy motor truck with a taxable gross weight of 55,000 pounds and more, your are liable to report and pay 2290 truck taxes. It is simple and easy when you do it online with TruckDues.com an IRS authorized e-file service provider.
Electronic filing automates your tax preparation, you just key in your vehicle details with the tax year and first used month, taxable gross weight along with your Vehicle Identification Number (VIN), your tax return is ready with inputs to file it with the IRS. It is simple and easy as 1-2-3..!
Electronic filing is the fastest way of filing your 2290 tax returns with the IRS, once you complete your tax return it is consolidated and sent to the IRS for processing. IRS verify the data and approves your Schedule-1 with an e-file watermark (stamp) which very well used as a proof for payment of taxes.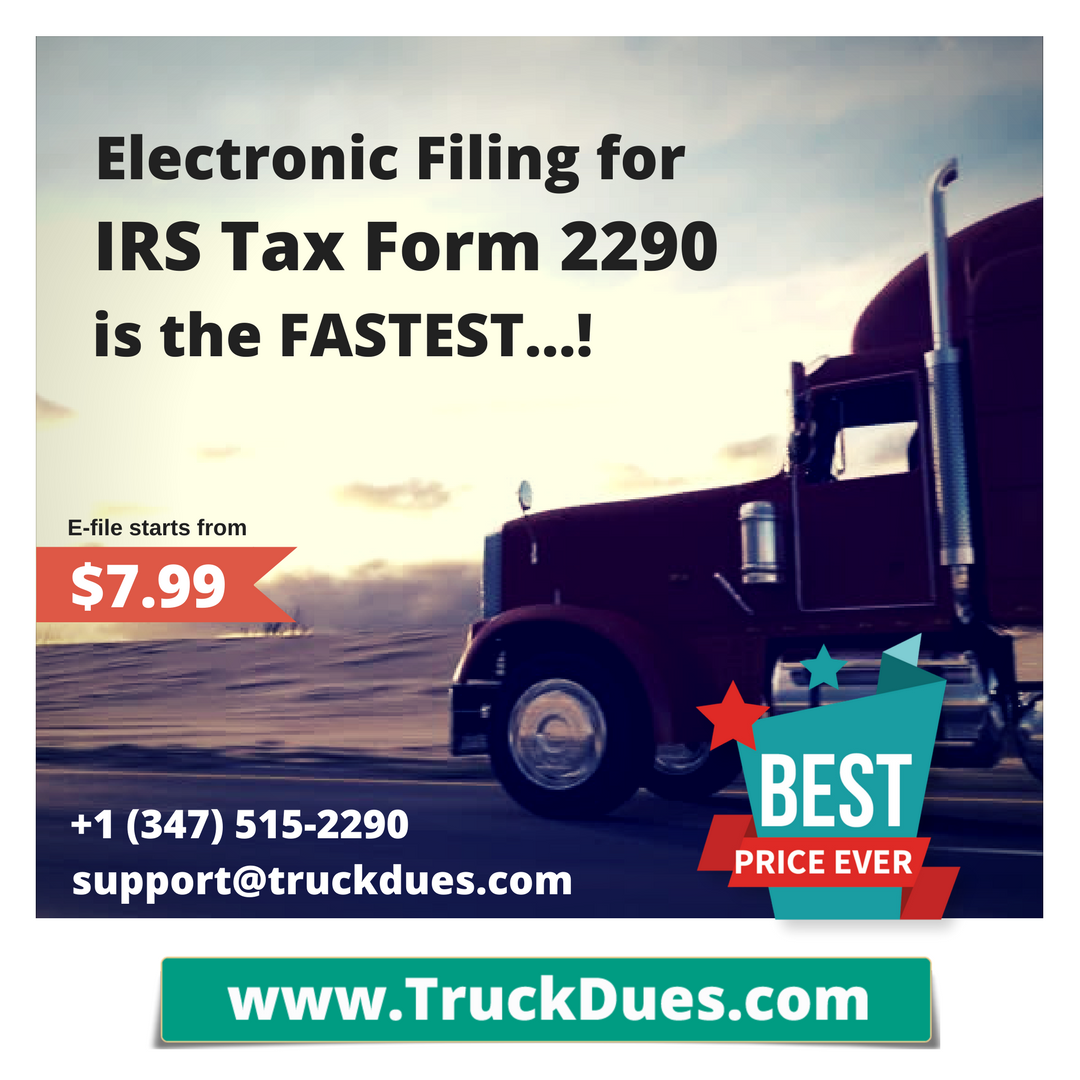 Electronic filing is $7.99:
Truckdues.com has made it affordable for every Trucker to choose between electronic filing and paper return, choose e-file to enjoy the benefits to the core. Electronic filing starts at $7.99 for a single vehicle and "The Best Price" in the market to e-file. Pay this nominal e-file service fee using your credit/debit card issued by VISA, Master, American Express or Discovery card provider.
This Self-Serviced website enables you to file your 2290 returns on your own with simple and user friendly screens. We won't ask for your credit card upfront, complete the tax return and pay for this service.
Electronic filing also gears to get you the return status updates in your cell phone without any delay. You could also subscribe for FAX copies of your approved Schedule-1 receipt. Getting start with 2290 efile is easy and simple as stated before.

Proud TruckDues.com user Mr. Andronicus McDonald from Port Orange, Florida quoted
"This website made my 2290 tax filing so simple that I would never use another program unless they stop e-filing 2290's. I reviewed several other companies that had heavier advertisements with expensive pricing. If you are nervous about filing your own taxes, trust when I say this is the perfect software for you. Couldn't be any easier, Thanks TruckDues."
TruckDues.com - "The Best Priced" website partner with 1000s of truckers reporting 2290 taxes is the most trusted website. We build the trust and faith, no more looking back… choose efiling and save you time and money. #happytrucking #safetrucking